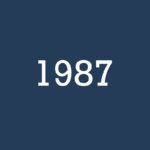 Das Jahr 1987 wird durch den größten Politskandal der Nachkriegsgeschichte dominiert. Die Affäre um den CDU-Politiker Uwe Barschel und seinen ungeklärten Tod erschüttert die Bundesrepublik.
Der Dialog der Supermächte kann endlich mit Ergebnissen aufwarten. US-Präsident Ronald Reagan und der sowjetische Staatspräsident Michael Gorbatschow unterzeichnen einen Abrüstungsvertrag.
Deutsche Single Charts 1987
Die Neue Deutsche Welle ebbt ab. Viele Coversongs stürmten die Charts. Zum Beispiel die Pet Shop Boys mit "Always on my Mind" einer Popversion eines Elvis Klassikers.
Die amerikanische Grunge Band Nirvana wird gegründet.
Michael Jackson veröffentlicht mit dem Album Bad sein neues und lange erwartetes Nachfolge-Album von Thriller. Ebenfalls in den Album Charts besonders erfolgreich war die irische Rockband U2 mit dem Album "Joshua Tree".
Platz 1 in den Charts 1987
Voyage voyage – Desireless
Die weiteren Platzierungen in den Charts 1987:
Platz 2: Crockett's Theme – Jan Hammer
Platz 3: I Wanna Dance With Somebody – Whitney Houston
Platz 4: La isla bonita – Madonna
Platz 5: You're The Voice – John Farnham
Platz 6: Guten Morgen liebe Sorgen – Jürgen von der Lippe
Platz 7: You Want Love – Mixed Emotions
Platz 8: Never Gonna Give You Up – Rick Astley
Platz 9: Sweet Sixteen – Billy Idol
Platz 10: Boys – Sabrina
Deutsche Top 100 im Jahr 1987
Die 100 bestplazierten Titel in den deutschen Charts 1987.