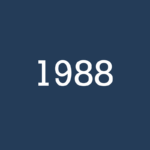 Die Abrüstungsbestrebungen der Supermächte machen 1988 weitere Fortschritte. Der Krieg zwischen dem Iran und dem Irak endet nach einem erneuten Aufflammen mit einem Friedensabkommen. Eine Bombenexplosion lässt ein US-Flugzeug über dem schottischen Lockerbie abstürzen. Mehrere hundert Menschen sterben.
In Deutschland hält das Gladbecker Geiseldrama die Menschen in Atem.
Deutsche Single Charts 1988
1988 ist das Jahr von Michael Jackson, der weitere Singles aus dem Sensationsalbum "Bad" auskoppelt. Kylie Minogue hat ihre ersten Charterfolge. Das erfolgreichste Album stammt aus einem Soundtrack. Der Film "Dirty Dancing" ist noch heute Kult. "Don't Worry, Be Happy" ist der erste A-capella Hit in der Geschichte der Charts.
Die Punkband Die Ärzte gibt ihr "Abschiedskonzert" auf Sylt.
Céline Dion gewinnt am 30. April in Dublin mit dem Lied "Ne partez pas sans moi" für die Schweiz die 33. Auflage des Eurovision Song Contest.
Platz 1 in den Charts 1988
Girl You Know It's True – Milli Vanilli
Die weiteren Platzierungen in den Charts 1988:
Platz 2: Macho Macho – Reinhard Fendrich
Platz 3: Push It – Salt 'n' Pepa
Platz 4: Im Nin'Alu – Ofra Haza
Platz 5: Okay – O.K.
Platz 6: Ella elle l'a – France Gall
Platz 7: Gimme Hope Jo'anna – Eddy Grant
Platz 8: A Groovy Kind Of Love – Phil Collins
Platz 9: Yeke Yeke – Mory Kante
Platz 10: The Twist – Fat Boys
Deutsche Top 100 im Jahr 1988
Die 100 bestplazierten Titel in den deutschen Charts 1988.