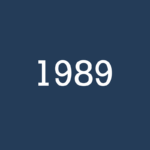 Der Fall des "Eisernen Vorhangs" nach Protesten der Bürgerbewegungen, die Öffnung von Mauer und Grenzen und schließlich die Verhandlungen zur Wiedervereinigung der beiden deutschen Staaten prägen das Jahr 1989. In Peking schlägt die Armee auf dem Platz des Himmlischen Friedens die Studentenproteste blutig nieder, die USA marschieren in Panama ein und in Chile wird Militärdiktator Pinochet abgewählt.
Der Eiserne Vorhang im wahrsten Sinne des Wortes löcherig. Bereits im Januar verzichteten in Ungarn und Polen die Kommunisten auf ihren alleinigen Machtanspruch. Über Ungarn setzten sich die ersten DDR-Bürger in den Westen ab. Die Montagsdemonstrationen läuteten die Wende ein und am 9. November fiel die Mauer nach 28 Jahren.
Deutsche Single Charts 1989
Paul McCartney sein Album "Back in the USSR" exklusiv in der USSR. Darauf hin werden geschmuggelten Aufnahmen für mehrere tausend Dollar in den Vereinigten Staaten verkauft. James Brown wird nach einer wilden Verfolgungsjagt zu sechs Jahren Haft verurteilt.
Im September sorgte Madonna für einen erneuten Aufschrei ängstlicher Eltern. Bei einem Auftritt in der "MTV Video Music Awards"-Show deutete sie Masturbation an und trat nur mit einem Schwarzen BH auf. Am 12. April erhielt Michael Jackson offiziell den Titel "King of Pop".
Die Band Nirvana landeten mit ihrem Debütalbum "bleach" einen ersten Achtungserfolg.
Platz 1 in den Charts 1989
Das Omen – Mysterious Art
Die weiteren Platzierungen in den Charts 1989:
Platz 2: The Look – Roxette
Platz 3: Lambada – Kaoma
Platz 4: Looking For Freedom – David Hasselhoff
Platz 5: Swing The Mood – Jive Bunny
Platz 6: The Way To Your Heart – Soulsister
Platz 7: Lullaby – The Cure
Platz 8: Like A Prayer – Madonna
Platz 9: She Drives Me Crazy – Fine Young Cannibals
Platz 10: Love Is A Shield – Camouflage
Deutsche Top 100 im Jahr 1989
Die 100 bestplazierten Titel in den deutschen Charts 1989.