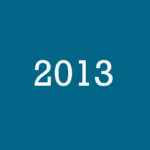 Die beherrschenden Themen waren NSA und NSU. Die Enthüllungen des ehemaligen Mitarbeiters des US-Geheimdienstes NSA Edward Snowden führten zu weltweiten Protesten gegen die Spionage der Vereinigten Staaten. In München beginnt nach langem Streit um die Presseplätze der NSU-Prozess.
US-Präsident Obama startete in seine zweite Amtszeit, Kanzlerin Merkel in die dritte.
Deutsche Single Charts 2013
"Mit freundlichen Grüßen"
startete Heino seinen zweiten Frühling. Das Album mit Coversongs von Rammstein und den Ärzten kam an. Beim Wacken-Open-Air-Festival trat er dann auch zusammen mit Rammstein auf die Bühne.
Black Sabbath feiern mit ihrem Album "13" ein grandioses Comeback.
In einem Film über den Geigen-Virtuosen Niccolò Paganini, verkörpert David Garrett selbigen.
Gefeiert wurde außerdem der 200. Geburtstag Richard Wagners.
Es verstarben J. J. Cale, Paul Kuhn und Lou Reed.
Platz 1 in den Charts 2013
Wake Me Up – Avicii
Die weiteren Platzierungen in den Charts 2013:
Platz 2: Blurred Lines – Robin Thicke Feat. Pharrell Williams & T.I.
Platz 3: Scream And Shout – William Feat. Britney Spears
Platz 4: Get Lucky – Daft Punk Feat. Pharrell Williams
Platz 5: Let Her Go – Passenger
Platz 6: Can't Hold Us – Macklemore Feat. Ray Dalton
Platz 7: Thrift Shop – Macklemore Feat. Wanz
Platz 8: Safe And Sound – Capital Cities
Platz 9: Radioactive – Imagine Dragons
Platz 10: La La La – Naughty Boy Feat. Sam Smith
Deutsche Top 100 im Jahr 2013
Die 100 bestplazierten Titel in den deutschen Charts 2013.